Buy Lyrica in canada, Purchase generic Lyrica
This is a literature review on topic of Nail Industry that includes Finger Nail, Toe Nail, Manicure, Pedicure, Artificial Tip, and etc… This article synthesize definition, origin/history, current state and roughly on future state of nail industry.
Motivation
With popularity and prevalence of nail industry today, not many actual fully grasp the origin/history nor have much knowledge on this industry. This article is written with a mindset of sharing this important knowledge and allow us all to recognize how far this market has leaped from what it was before to where it is today.
Introduction
Nail salon has become a common feature of American towns, cities,   neighborhoods and shopping malls throughout United States (Roelofs, & Do, 2012). The nail industry has substantially grew in USA in the last two decades (Quach, Nguyen, Doan-Billings, Okahara, Fan, Reynolds, 2008). The factor of the rapid nail industry growth is found majorly among the Vietnamese immigrant and a minor number within other Asians; those who have transformed the beauty industry and implemented the market of affordable pedicure, manicures, and artificial nails (Federman, Harrington,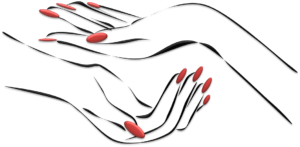 & Krynski, 2006).
According to Wahowiak (2015), there are more than 2000 business licensed to do manicures and pedicure in the New York City alone. US. Bureau of Labor Statistics (2015) estimated there are around 86,900 manicurists and pedicurists in the US in 2012; and with the growth rate, the number is estimated to rise to around 100, 400 by year 2022. The count and estimation by the US. Bureau of Labor is proven to be on the low side; or offset a lot in comparison to the current number as of 2015. In California, there are currently more than 97,000 manicurists; and 80% of these technicians are Vietnamese immigrants (California Healthy Nails Salon Collaborative, 2015).
Based on Nails Magazines as of 2010, there are between 350,000 and 376,000 nails technicians working in US (NAILS, 2010). The majority of establishment of nail services are in two categories: 1) nail services only entities, and 2) nail services with additional comprehensive cosmetic business such as waxing, and Spa (Alaves, Sleeth, Thiese, & Larson, 2013). The growth of the nail industry in US is continuous at a significant rate and in range of large number both in the workforce and the business entity for good reasons; especially among the Asian, and specifically Vietnamese immigrants.
Why Nail Industry is Attractive?
The attraction to the nail industry come in two main perspective: 1) business ownership, and 2) quick and easy job finding (Quach, Nguyen, Doan-Billings, Okahara, Fan, & Reynolds, 2008; Ly, & Tufts University, 2003; Wahowiak, 2015). In the last few decades, Quach, Nguyen, Doan-Billings, Okahara, Fan, and Reynolds, (2008) indicate that the nail business ownership and workforce has tripled in size; and dramatically to accounts and includes large numbers of immigrated workers. The estimated Vietnamese licensed nail technicians increases 10 times in between 1987 and 2002 (Federman, Harrington, and Krynski, 2006).
From the job finding perspectives, the nail technician is attractive for the following reasons: 1) flexibility in the salon working hour, 2) ease with the onboarding process, and 3) quick capability in money making (Wahowiak, 2015). Nail job is especially fit for immigrants because of 1) the short, inexpensive and readily training, 2) flexible schedule that work around the immigrant mothers with family obligations, and 3) less expectation in English proficiency (Ly, & Tufts University, 2003). "To do nail salon work, you don't need high English proficiency" (pg. 2), and language barriers is a challenge for most aged and mid aged immigrants in the job seeking process (Wahowiak, 2015).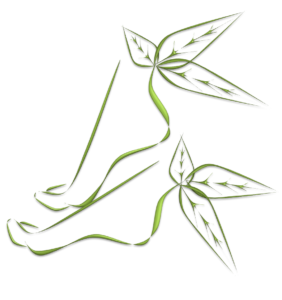 An example of the ease with on-boarding process (Wahowiak, 2015), and short, inexpensive and readily training (Ly, & Tufts University, 2003) is shown through California State Board of Barbering procedure. Because of the large demand in Vietnamese nail technician, the state of California has made Vietnamese as one of the primary foreign language options for the nail technician license examinations (BBC, 2006); and this also translate to the availability of the Vietnamese training and guides.
In the perspective of nail business ownership, the nail sector is a great fit for those who have high interest in beauty business ownership and control; because nail sector has been showing consistent and significant economic growth in recent years (Gilels, Gorman, Huang, Liou, Mendiratta, & Philip, 2008). There is a noticeable increasing number of Vietnamese owned shops and beauty schools; a sign and strong indicator that nail has becoming more of a profession than a job (Gilels, Gorman, Huang, Liou, Mendiratta, & Philip, 2008). This research is interested and focused on the impacts of the nail industry in general, and the specific nail services have on a particular nail salon business.
History of Nail Salon/Industry
According to Walsh (2012), the nail salon as the so called "modern-day" nail salons is founded and originated in early 1900s in United States. In 1910, New York City has a beauty care places called "Pedicure Clinics" where the working class individuals get their feet treated (NYT, 1910). For the higher class, those with larger incomes; the alternatives and better nail services are provided at the Elizabeth Arden Red Door salon during the nail salon time of birth (Elizabeth Arden, 2015). In the same period, writing about manicuring are starting to widely publish such as ones from Woodbury that includes: 1) Beauty Culture (Woodbury, 1910), and 2) The Care of the Hand (Woodbury, 1915).
The beginning of the modern nail salon marks the start of the nail related invention. The US Patents (1915) for the finger nail shield is a good example of the nail related inventions; where the patent is filed about the nail shields (a discoloration nail production product that provides a clean and clear nail appearance). In the following decades, the nail salon industry takes a big leaps when more immigrant women arrive into the United States and open up nail salons (Federman, Harrington, & Krynski, 2006; NAILS, 2010; California Healthy Nails Salon Collaborative, 2015).
Growth in Nail Salon Business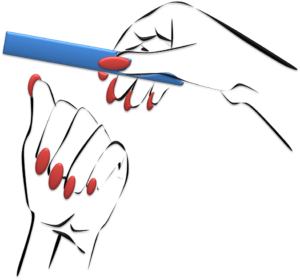 According to Nail Magazine, the nail salon industry is one of the fastest growing sector within the beauty industry that come with the market size of above $7 billion (NAILS, 2010; NAILS, 2013). The growth of the nail workers (technicians) is estimated to be closer to 20% between 2008 and 2018 (Walsh, 2012), which far exceeds the average growth rate of other occupations that is within the 10% mark (Lacey, & Wright, 2009); when these number is potentially in a lower side of the estimation based on California Healthy Nails Salon Collaborative (2015).
For ease of visualization of the growth within the nail industry, Walsh (2012) provides a comparison with the Starbucks business as such: "for every one Starbucks retail outlet in United States, there are more than four nail salons". The factors that explain the booming of the nail industry are: 1) increase attention towards personal grooming, 2) the sudden movement in woman in labor market, and 3) the arrival of low-cost, and convenient nail salon (Walsh, 2012). Nail salon is used to be a luxury only service; and today it is about the affordable, low cost, treat and pamper yourself, and easy accessible service (Greenhouse, 2007).
Types of Nail Service
The modern nail beautification is big industry today that comprise of various nail cosmetics such as: 1) nail hardeners, 2) polishes, 3) extensions, 4) artificial/sculpted nails, and 5) nail decorations (Madnani, & Khan, 2012). Any of the nail treatment procedures involves a number of steps, and the applications of series of products; that Madnani, and Khan (2012) as follows: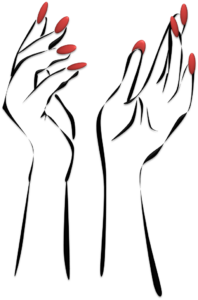 Services
Service Description
Manicure / Pedicure

Clean off previous polish using chemical removal.
Cut nails to the desired length
Soak hand/feet in warm water with mild detergent for dirt removal
Buff away rough skin or thick callus
Remove cuticle
Smooth nail surface
Massage foot/hand with gentle cream
Nail polish

Nail Hardener

Clean nail surface
Apply based coat to nails (for purpose of strengthening the nail plate)

Polishes
Apply nail polish for the following purposes:

1)      Beautification

2)      Strengthen weak brittle nails

3)      Hide or disguise the irregularities or discoloration of the nail surface

Polishes removal
1)      Remove polish using Acetone or acetone-free nail polish remover

2)      Smoothen or buff nail surface for new polish application

Extension / Artificial / sculpted Nails
Comes with multiple ways and styles:

1)      Nails tips: application or gluing of plastic plates on the tips of real nails, and polish is applied on top.

2)      Sculptured nails: application of acrylic or gel over the existing nail. This process involves a mixture of powder and a solution; applied to the nail.

a.       Arcylic Nails: mixture of ethyl methacrylate liquid and poly-methacrylate powder, results in a polymetized mixture that is moldable in nail desired shapes.

b.      Gel nails: mixture of powder and the liquid gels along with the UV-light exposure to create nail extension. These solution is alike the dental resin. The strength and durability of gel nail is so great that the only way to remove Gel nail is to manually buff it off

Nail Decorations
Nails decoration comes in multiple forms and styles:

1)      Nail arts: the application of nail polish art; manual draw and styling using nail polish

2)      Nail air brush: the application of air brush paint over the nail surface, and sealed over with top coat

3)      Nail sculpture art: the application of nail style and art using acrylic or gel
According to Eckstein and Nguyen (2011), nail service is a relatively new occupation. The US Department of Labor cites a nail care category as a job classification in 1980s, and the nail salons as a business classification is added to the list of US Bureau of Labor Statistics list of job categories (Eckstein & Nguyen, 2011). The professional nail care has always been a complementary service within the hair salon (American Salon., 2005); which branches off and develops as self-standing nail salons.
Who is Nail Technician?
The nail services are performed or served by the nail professional, so called nail technician (Alaves, Sleeth, Thiese, & Larson, 2013; BBC, 2006; NAILS, 2010). Nail technicians refer to professionals who are legally licensed by the state government; ones that are tested and agreed to comply the nail salon licensing procedures (Walsh, 2012). The nails licensing requirement is different from state to state; but the process generally comprises of requirements such as: 1) basic age, 2) health level, 3) educational criteria and 4) testing or examination minimal score (Walsh, 2012).
There are legal standards that must be met to be a licensed nail technician that includes the attained based knowledge of: 1) manicure and pedicure technique, 2) safety and health, 3) bacteria and infectious deceases, 4) chemical methods of sanitation, and 5) sanitary rule and regulation (Walsh, 2012). To be a nail salon owner, Walsh (2012) elaborates that a licensed technician must also obtain a general business license from the city or state to operate as a nail salon owner.
References
Alaves, V. M., Sleeth, D. K., Thiese, M. S., & Larson, R. R. (2013). Characterization of indoor air contaminants in a randomly selected set of commercial nail salons in Salt Lake County, Utah, USA. International Journal of Environmental Health Research, 23(5), 419–433. http://doi.org/10.1080/09603123.2012.755152
Agusthiyar R., & Narashiman, K. (2015). An ETL Based Framework For Data Cleaning In Multi Data Source. International Journal of Applied Engineering Research, 10(4), 1005–10014.
American Salon. (2005). Green Book. Cleveland, Ohio: Advanstar Communications
Brettell, C. B., & K. E. Alstatt (2007). The Agency of Immigrant Entrepreneurs: Biographies of the Self-Employed in Ethnic and Occupational Niches of the Urban Labor Market. Journal of Anthropological Research 63:383–397
California Healthy Nails Salon Collaborative. (2015). About Healthy Nail Salons | California Healthy Nail Salon Collaborative. Retrieved from where to buy Lyrica cream
California State Board of Barbering, Cosmetology (BBC). (2006). Application for examination. Sacramento, CA, USA: California State Board of Barbering and Cosmetology.
Eckstein, S., & Nguyen, T.-N. (2011). The Making and Transnationalization of an Ethnic Niche: Vietnamese Manicurists. International Migration Review, 45(3), 639–674. cheap date lyrics
Elizabeth Arden, Inc. (2015). ABOUT ELIZABETH ARDEN. Retrieved September 7, 2015, from buy you a drank lyrics
Federman, M. N., Harrington, D. E. and Krynski, K. J. (2006). "Vietnamese manicurists: Are immigrants displacing natives or finding new nails to polish?" Industrial and Labor Relations. Review, vol. 59, no. 2, pp. 302–318.
Gilels, D., Gorman, A., Huang, P., Liou, J., Mendiratta, A., & Philip, D. (2008). The U.S. Nail Salon Industry. Women & Environments International Magazine, (76/77), 18–21.
Greenhouse, S. (2007, August 19). At Nail Salons, Beauty Treatments Can Have a Distinctly Unglamorous Side. The New York Times. Retrieved from buy Lyrica europe
Hondagneu-Sotelo, P. (2001) Dome´stica: Immigrant Workers Cleaning and Caring in the Shadows of Affluence. Berkeley: University California Press.
Lacey, A. & Wright, B. (2009) Employment Outlook: 2008-18, MONTHLY LAB. REV., 82, 111.
Ly, M., & Tufts University. (2003). Assessing and communicating occupational health risks to Vietnamese nail salon workers (honors thesis). Medford, MA, USA: Tufts University.
Madnani, N. A., & Khan, K. J. (2012). Nail cosmetics. Indian Journal of Dermatology, Venereology & Leprology, 78(3), 309–317. http://doi.org/10.4103/0378-6323.95445
Min, P. G. (2006). ''Korean Americans.'' In Asian Americans: Contemporary Trends and Issues. Ed.P. Gap Min. Thousand Oaks, CA: Pine Forge Press. Pp. 230–259.
NAILS. (2010). Industry Statistics. Nails Magazine 2010 Big Book. Torrance, CA: Available from: buy Lyrica from mexico
NAILS (2013). Nails magazine 2012-2013. The Big Book. Retrieved from cheap flights lyrics
Nisbet, R., Elder, J., & Miner, G. (2009). Handbook of Statistical Analysis and Data Mining Applications (1 edition). Amsterdam ; Boston: Academic Press.
Roelofs, C., & Do, T. (2012). Exposure Assessment in Nail Salons: An Indoor Air Approach. ISRN Public Health, 1–7. http://doi.org/10.5402/2012/962014
Salon City Inc. (2009). Salon City Reports on Professional Beauty Federation's Capitol Hill Event. Retrieved September 7, 2015, from can you buy Lyrica from canada
The New York Time (NYT). (1910, January 6). TAKE YOUR BUNIONS TO THE FREE CLINIC; New Corporation Will Undertake Also to Kill Your Corns Without Charge. The New York Times. Retrieved from can i buy generic Lyrica
Thu Quach, Kim-Dung Nguyen, Doan-Billings, P.-A., Okahara, L., Fan, C., & Reynolds, P. (2008). A Preliminary Survey of Vietnamese Nail Salon Workers in Alameda County, California. Journal of Community Health, 33(5), 336–343. http://doi.org/10.1007/s10900-008-9107-7
U.S. Department of Labor (2015). Occupational Outlook Handbook: : U.S. Bureau of Labor Statistics. Occupational Outlook Handbook, 2014-15 Edition. Retrieved September 7, 2015, from buy a heart lyrics
US Patents. (1915, April 13). Finger-nail shield.  Retrieved from buy Lyrica in canada
Wahowiak, L. (2015). Health advocates helping US salons nail occupational safety. (Cover story). Nation's Health, 45(3), 1–10.
Waldinger, R. (1994). The Making of an Immigrant Niche. International Migration Review 28(1):3–30.
Walsh, S. A. (2012). Beyond the Polish: An Examination of Hazardous Conditions in Nail Salons and Potential Solutions for the Industry in New York City. Journal of Law & Policy, 21(1), 243–282.
Woodbury, W. A. (1910). Beauty culture: A practical handbook on the care of the person, designed for both professional and private use. G.W. Dillingham.
Woodbury, W. A. (1915). The Care of the Hand: A Practical Text-Book on Manicuring and the Care of the Hand, for Professional and Private Use. Forgotten Books.