Objective:
"Can I transfer my certified training hours for cosmetology, nail technology/manicure, and esthetic/aesthetic or state license from and to other states?"
"How can I do the transfer of hours from out of Kentucky state to Kentucky state?"
"Can Louisville Beauty Academy do this for me?"
"Do I have to take the exam again?"
Questions like these have been asked many many times and over and over again.
Short Answers:
You can transfer your beauty license, and certified completed training hours to and from Kentucky StateBoard of Cosmetology and Hairdress to and from other states and it is NOT HARD to do, BUT it is TIME-CONSUMING
Key Notes:
Louisville Beauty Academy can help, guide and advice, but we still follow exactly the guideline of KY State Board of Cosmetology, with NO EXCEPTION
Applicant or license/certified training hours holder has to be the one who all these steps as required by State Board of Kentucky
License or Certified Training Hours MUST BE transferred by one State Board to another State Board, NOT by the applicant – therefore, the applicant has to call to request the state board to make the transfer on his/her behalf
The applicant has to apply for the destination State Board to accept and process his/her transferred license/certified training hours and guide him/her in next steps – either to take the exam again or apply to get the new license in that state
You MUST TAKE STATE BOARD EXAM AGAIN in Kentucky if you did not take the exam on NIC examination system (National Interstate Council of State Boards of Cosmetology)

NIC provides national theory and practical examinations for cosmetology and related fields that are standardized, valid, and legally defensible using psychometric principles. Computer-Based Testing and practical examinations are administered by Test Administration companies and States upon approval and authorization of NIC.
Here is a list of States that utilize NIC Testing (https://nictesting.org/state-agencies-test-administration/)
Long Answers:
*** Due to the high volume of applicants, please allow a minimum of 30 days for application processing time. Receipt of applications cannot be verified by the office unless it has been more than 30 days from submission. If you require verification of receipt, please submit your application by traceable means through the postal system. ***All out-of-state applicants must have a certification of license from state board that issued the license.
Cosmetologist Requirements
1500 Hours
12th Grade Education
Nail Technician Requirements
450 Hours
12th Grade Education
Esthetician Requirements
750 Hours
12th Grade Education
Apprentice Instructor/Instructor Requirements
750 Hours
12th Grade Education
Individuals with Hours Completed in Another State
Must provide a certification of hours and/or license from the state licensing agency where the hours were obtained. This is to be requested by the applicant from the licensing agency of the state they are transferring from and must be submitted from the transferring state. Certifications cannot be accepted from the applicant. All out-of-state hours must be certified by the State Board or Official Licensing Agency of the state the hours were obtained in. Only hours certified by the state licensing agencies will be accepted. School transcripts will not be accepted.
If the applicant's hours obtained out-of state are equivalent to Kentucky's hourly requirement then the applicant will apply as an Out-of-State Exam applicant.
If the applicant does not have enough hours to match Kentucky's hourly requirement the applicant must complete remaining hours required for that license in a school of cosmetology in Kentucky before applying for the licensing exam.
Please Note: Kentucky will only accept the amount of hours the state you are transferring from requires for licensing. (Example: Florida requires 1250 hours to be licensed as a cosmetologist – that is the maximum amount of hours that we will accept from that state).
Examinations Required:
Cosmetology
Nail Technician
Esthetician
Please see the Exams section of the website for examination information.
Licensed Out-of-State
Any person who holds an out-of-state license and gained licensure by a nationally certified examination may apply for licensure without completing the NIC examination in Kentucky. Approved transfers will not be required to complete an examination for licensure in the state of Kentucky.
Any person who holds an out-of-state license that did not complete a nationally certified examination to obtain licensure in the transferring state will be required to successfully complete the NIC examination, theory and practical, before licensure will be granted in Kentucky.

Out-of-State License Transfer Application- Required Documentation:
The following documentation must be submitted with your application before it will be evaluated for approval:
Copy of Applicant's Driver's License or State Issued ID.
Certification of Professional License- Must be requested by applicant from professional licensing board for that state. Please request all certifications be submitted directly to the Kentucky State Board of Cosmetology. Certifications cannot be accepted from the applicant. (Applicants holding an Indiana license may submit electronic certification from their state licensing agency.)
Proof of 12th Grade Education- College, High School, or GED transcript or Diploma is Acceptable. Education obtained outside of the United States must be submitted with an offical translation.
All requested documentation (except license certification) must be received with the transfer application and fee listed on the application. Applications missing documentation will not be placed for approval.
PLEASE NOTE: Processing Time for Out-of-State transfer applications received complete and correct in the Board office is 30 days. Please Plan Accordingly.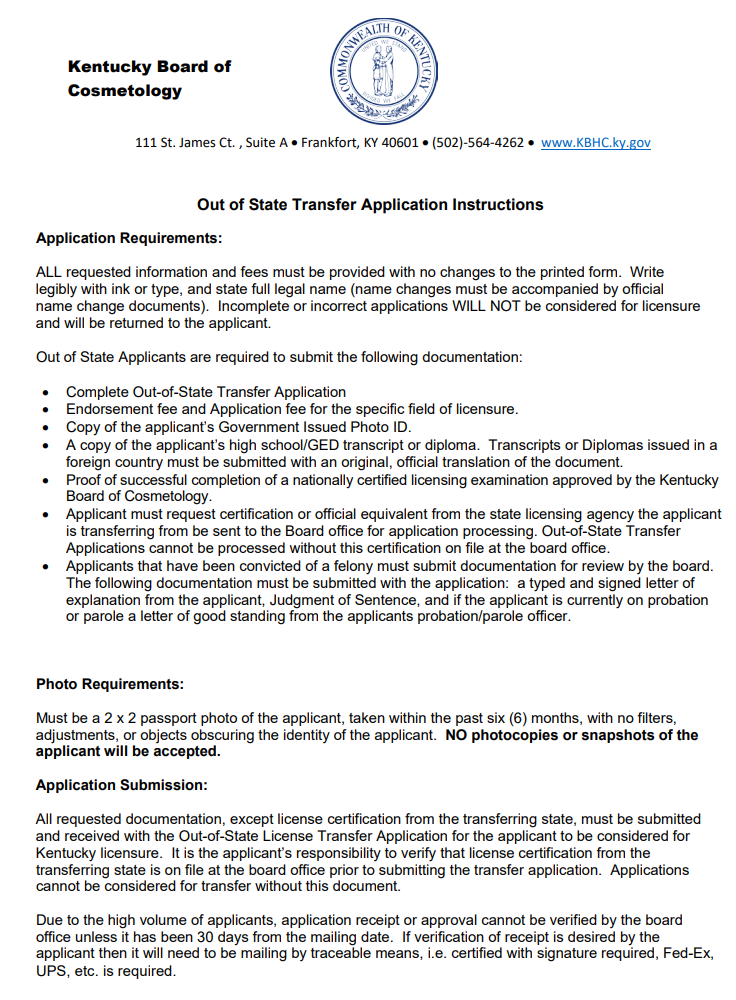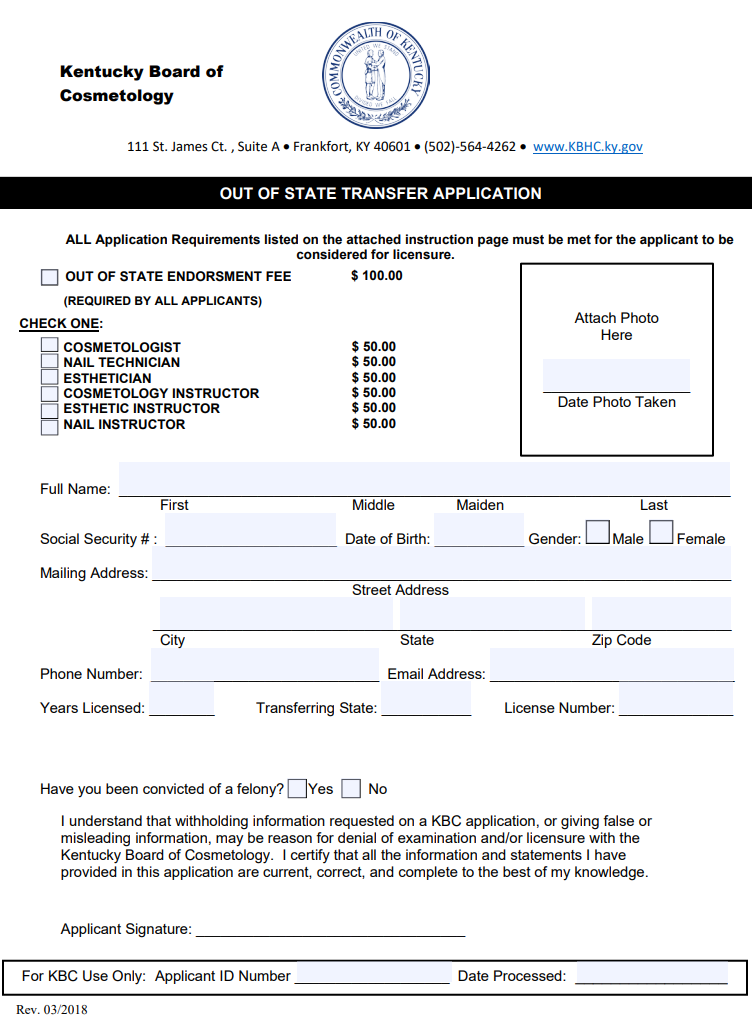 References:
Kentucky State Board of Cosmetology and Hairdressers – Transfer Out of State License and Certified Training Hours https://kbc.ky.gov/Licensure/Pages/Out-of-State-Info.aspx
National INterstate Council of State Boards of Cosmetology (NIC) – Course Content Focused for State Board Examination – Cosmetology & Hair Design, Barbering (Barber Styling, Barber, Barber 1), Body Piercing, Electrology, Esthetics/ Aesthetic, Esthetics-Advanced Practice (AP), Instructor, Manager, and Nail Technology
https://nictesting.org/wp-content/uploads/2020/03/NIC-References-3.1.2020.pdf